2022 Southern Ram Sale - Friday 11th February
Posted: 28 January 2022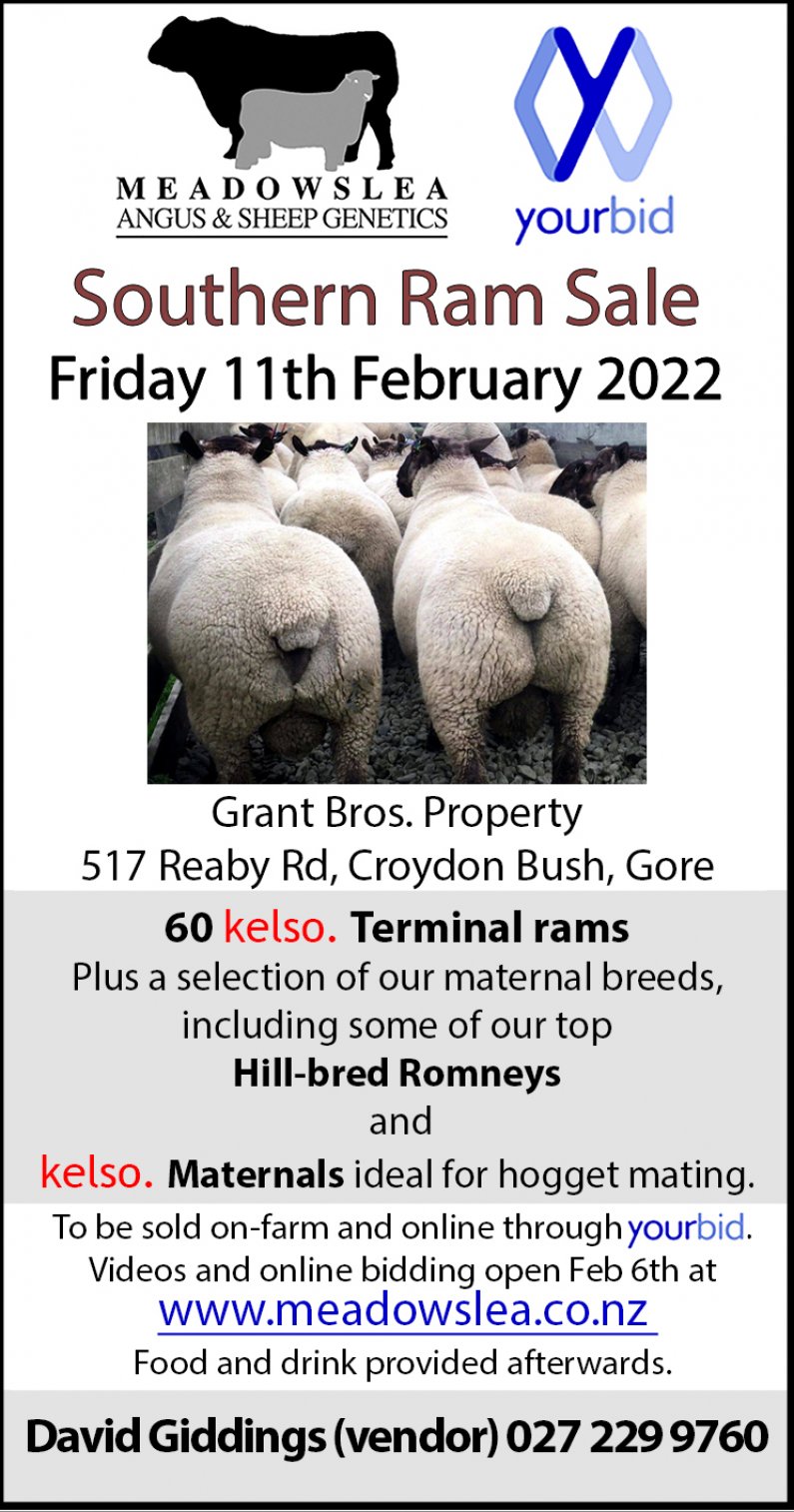 3rnd Annual Southern Ram Sale – Friday 11th February 1pm. Grant Brothers' property, Gore
Following on from our inaugural southern ram sale at the Southern Field Days in 2020, we held our very successful 2021 sale at the Grant Brothers' property near Gore. We had hoped to return to the Field Days venue again this year, but with the cancellation due to Covid we are very grateful to the Grant Family for allowing their excellent facilities in Reaby road to be the venue for the sale again this year. 
The sale will be run as a helmsman-style auction on our yourbid online selling system. This will allow on-farm buyers as well as those online to bid simultaneously and removes the risk of Covid restrictions forcing any changes to the format of the sale. All rams have been filmed in the groups of three they will be penned in on the day, with commentary and descriptions.
The videos, catalogue and performance data are all up on our website https://www.meadowslea.co.nz/2022-southern-ram-sale/ and online registration and bidding is open now. The on-farm sale will run from 1pm till 2pm, after which time bidding will remain open on all lots until there has been a period of two minutes without any bids on any lot, at which time the sale will close
Client feedback from the last two years has been very positive and this year we will bring down 60 dark-faced Kelso Terminal 2th rams of the thick, deep-bodied type that does so well in Southland. We are also bringing a selection of 5 maternal breeds including some very good Romney rams and some top Kelso Maternals with hogget mating options.
All sale attendees will require a Covid Vaccination Pass. We will have the rams available for inspection by appointment at Grants' property in the three days prior to the sale so feel free to give us a call and we will run them in for a close look.