2023 Semen and Embryo Sale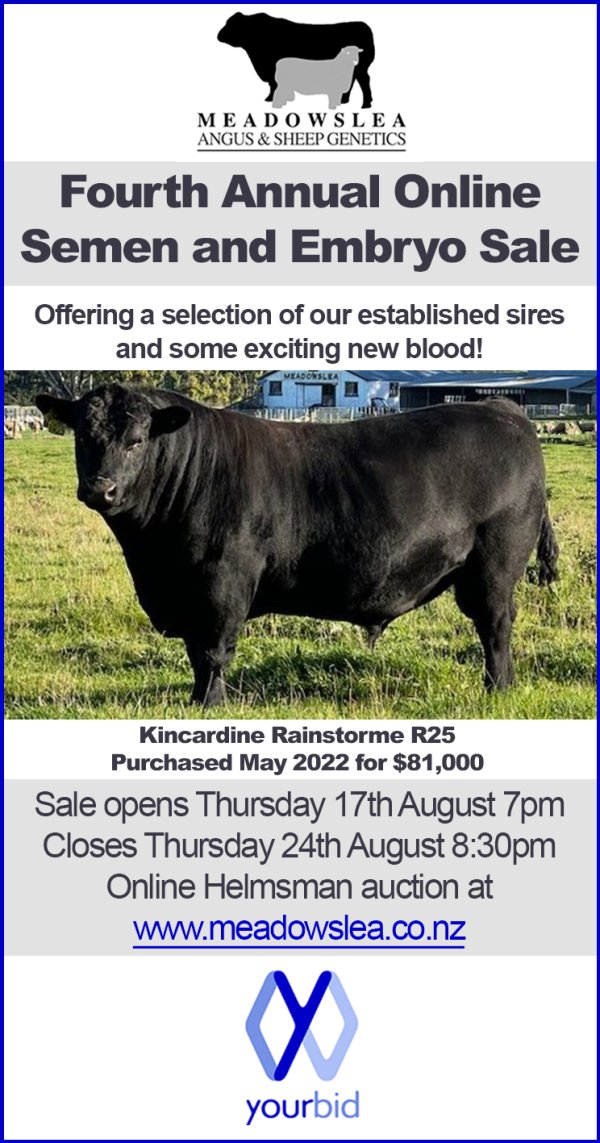 Remaining lots are offered on a fixed price, first-come-first-served basis - BUY NOW!
If you have any questions or queries about either the cattle of the selling system, please don't hesitate to give us a call on +64272299760 (David Giddings)
We have a shipment to Agrigene in Australia booked for mid-late September 2023.
If there is strong demand for another bull on the list to become export qualified we may get him collected - please be in touch.
Video Stream
Live Chat
Problems using the chat? Click here to open in a new window.
Remaining lots will be sold at fixed price on at first-in-first-served basis. First bidder on any lot will be the winner, even if further bids are subsequently recieved.
To make a bid, click on any lot and follow the directions!
To login, click on the "register" in the top right corner of this page, fill out your details.
The website will then send you an email. Go to your inbox, and click the link in that email to validate your login.
If you can't find the email, try your "spam" or "promotions" folder in your email.
Then, go back to this page and click "login".
Red indicates that lot has not yet had a bid.
Blue indicates there has been a bid, the buyer number will appear next to it
New bids will flash up in orange
If you are logged in, the lots you hold will show up in green.
All prices are in $NZ and exclusive of GST
You can use the demonstration lots at the bottom of the screen to get to grips with the system. 
Bidding NOW OPEN!!!
Last Updated: 05/12/2023 11:25am
Kincardine Rainstorme R25
| Lot | Tally | Price | Buyer |
| --- | --- | --- | --- |
| 3 | 50 | $80 | 4 |
| 4 | 50 | $80 | 5 |
| 5 | 25 | $100 | 324 |
| 6 | 25 | $100 | 324 |
| 7 | 25 | $95 | |
| 8 | 25 | $95 | |
| 9 | 25 | $95 | |
| 10 | 25 | $95 | |
| Lot | Tally | Price | Buyer |
| --- | --- | --- | --- |
| 11 | 25 | $95 | |
| 12 | 25 | $95 | |
| 16 | 10 | $100 | 497 |
| 17 | 10 | $100 | 497 |
| 23 | 10 | $95 | |
| 24 | 10 | $95 | |
| 25 | 10 | $95 | |
| 26 | 10 | $95 | |
Meadowslea S160
| Lot | Tally | Price | Buyer |
| --- | --- | --- | --- |
| 27 | 25 | $75 | |
| 28 | 25 | $75 | |
| 29 | 25 | $75 | |
| 30 | 10 | $75 | |
| 31 | 10 | $75 | |
| 32 | 10 | $75 | |
Meadowslea Q178
| Lot | Tally | Price | Buyer |
| --- | --- | --- | --- |
| 33 | 50 | $75 | |
| 34 | 50 | $75 | |
| 35 | 25 | $80 | 8 |
| 36 | 25 | $75 | |
| 37 | 25 | $75 | |
| 163 | 10 | $75 | |
| 164 | 10 | $75 | |
Sudeley Bjorn S80
| Lot | Tally | Price | Buyer |
| --- | --- | --- | --- |
| 42 | 25 | $75 | |
| 43 | 25 | $75 | |
| 46 | 10 | $75 | |
Turihaua Crump E5
| Lot | Tally | Price | Buyer |
| --- | --- | --- | --- |
| 48 | 50 | $70 | |
| 49 | 25 | $75 | |
| 50 | 25 | $75 | |
| 51 | 25 | $75 | |
| 52 | 10 | $75 | |
| 53 | 10 | $75 | |
| 54 | 10 | $75 | |
Meadowslea N166
| Lot | Tally | Price | Buyer |
| --- | --- | --- | --- |
| 55 | 50 | $55 | |
| 56 | 50 | $55 | |
| 57 | 50 | $55 | |
| 58 | 25 | $60 | |
| 59 | 25 | $60 | |
| 60 | 25 | $60 | |
| 61 | 10 | $65 | |
| 62 | 10 | $65 | |
Meadowslea R818
| Lot | Tally | Price | Buyer |
| --- | --- | --- | --- |
| 63 | 50 | $55 | |
| 64 | 50 | $55 | |
| 65 | 25 | $60 | |
| 66 | 25 | $60 | |
| 67 | 25 | $60 | |
| 68 | 10 | $65 | |
| 69 | 10 | $65 | |
| 70 | 10 | $65 | |
Meadowslea R646
| Lot | Tally | Price | Buyer |
| --- | --- | --- | --- |
| 71 | 50 | $55 | |
| 72 | 50 | $55 | |
| 73 | 25 | $60 | |
| 74 | 25 | $60 | |
| 75 | 25 | $60 | |
| 76 | 10 | $65 | |
| 77 | 10 | $65 | |
| 78 | 10 | $65 | |
Rangatira Rebel 19798
| Lot | Tally | Price | Buyer |
| --- | --- | --- | --- |
| 79 | 50 | $55 | |
| 80 | 25 | $60 | |
| 81 | 25 | $60 | |
| 82 | 25 | $60 | |
| 83 | 10 | $65 | |
| 84 | 10 | $65 | |
Meadowslea Q347
| Lot | Tally | Price | Buyer |
| --- | --- | --- | --- |
| 85 | 25 | $60 | 8 |
| 86 | 25 | $55 | |
| 87 | 25 | $55 | |
| 88 | 10 | $60 | |
| 89 | 10 | $60 | |
| 90 | 10 | $60 | |
Meadowslea M564
| Lot | Tally | Price | Buyer |
| --- | --- | --- | --- |
| 91 | 25 | $80 | 1088 |
| 165 | 10 | $80 | |
| 166 | 10 | $80 | |
| 167 | 10 | $80 | |
Meadowslea L226
| Lot | Tally | Price | Buyer |
| --- | --- | --- | --- |
| 102 | 10 | $65 | |
| 103 | 10 | $65 | |
| 104 | 10 | $65 | |
| 105 | 10 | $65 | |
Meadowslea P700
| Lot | Tally | Price | Buyer |
| --- | --- | --- | --- |
| 106 | 25 | $65 | |
| 107 | 10 | $65 | |
| 108 | 10 | $65 | |
| 109 | 10 | $65 | |
Meadowslea P525
| Lot | Tally | Price | Buyer |
| --- | --- | --- | --- |
| 110 | 25 | $55 | |
| 111 | 25 | $55 | |
Turiroa Panther 18P421
| Lot | Tally | Price | Buyer |
| --- | --- | --- | --- |
| 114 | 10 | $55 | |
| 115 | 10 | $60 | |
| 116 | 10 | $60 | |
| 117 | 10 | $60 | |
| 118 | 10 | $60 | |
Meadowslea P565
| Lot | Tally | Price | Buyer |
| --- | --- | --- | --- |
| 119 | 25 | $50 | |
| 120 | 10 | $55 | |
| 121 | 10 | $55 | |
| 122 | 10 | $55 | |
Turihaua Tornado Q336
| Lot | Tally | Price | Buyer |
| --- | --- | --- | --- |
| 123 | 10 | $75 | |
| 124 | 10 | $75 | |
| 125 | 10 | $75 | |
| 126 | 10 | $75 | |
Turihaua Jupiter Q353
| Lot | Tally | Price | Buyer |
| --- | --- | --- | --- |
| 127 | 25 | $75 | |
| 128 | 10 | $75 | |
| 129 | 10 | $75 | |
| 130 | 10 | $75 | |
Meadowslea Meat Machine G914
| Lot | Tally | Price | Buyer |
| --- | --- | --- | --- |
| 132 | 10 | $60 | |
| 133 | 10 | $60 | |
| 134 | 10 | $60 | |
Meadowslea K703
| Lot | Tally | Price | Buyer |
| --- | --- | --- | --- |
| 136 | 10 | $60 | |
| 137 | 10 | $60 | |
| 138 | 10 | $60 | |
Meadowslea K811
| Lot | Tally | Price | Buyer |
| --- | --- | --- | --- |
| 139 | 50 | $35 | |
| 140 | 25 | $35 | |
| 142 | 10 | $35 | |
| 143 | 10 | $35 | |
| 144 | 10 | $35 | |
| 145 | 10 | $35 | |
Timperlea Quain 763
| Lot | Tally | Price | Buyer |
| --- | --- | --- | --- |
| 146 | 50 | $35 | |
| 148 | 25 | $35 | |
| 149 | 10 | $35 | |
| 150 | 10 | $35 | |
| 151 | 10 | $35 | |
| 152 | 10 | $35 | |
| 153 | 10 | $35 | |
Woodbank 7017
| Lot | Tally | Price | Buyer |
| --- | --- | --- | --- |
| 154 | 50 | $35 | |
| 155 | 25 | $35 | |
| 156 | 25 | $35 | |
| 158 | 10 | $35 | |
Embryos: G1000 x Rainstorme (NZ only)
| Lot | Tally | Price | Buyer |
| --- | --- | --- | --- |
| 159 | 6 | $1100 | |
| 160 | 6 | $1100 | |
Embryos: G895 x Rainstorme (NZ and Australia)
| Lot | Tally | Price | Buyer |
| --- | --- | --- | --- |
| 161 | 5 | $900 | |
| 162 | 5 | $900 | |