2019 Ram Sale
On-farm, Thursday November 28th 
Helmsman Auction 12:30-2pm
Catalogues available:
1/2 Perendale x 1/2 Romney (Romdale)
1/2 Romney x 1/4 Texel x 1/4 Perendale
Full Brochure: Meadowslea-Rams-2019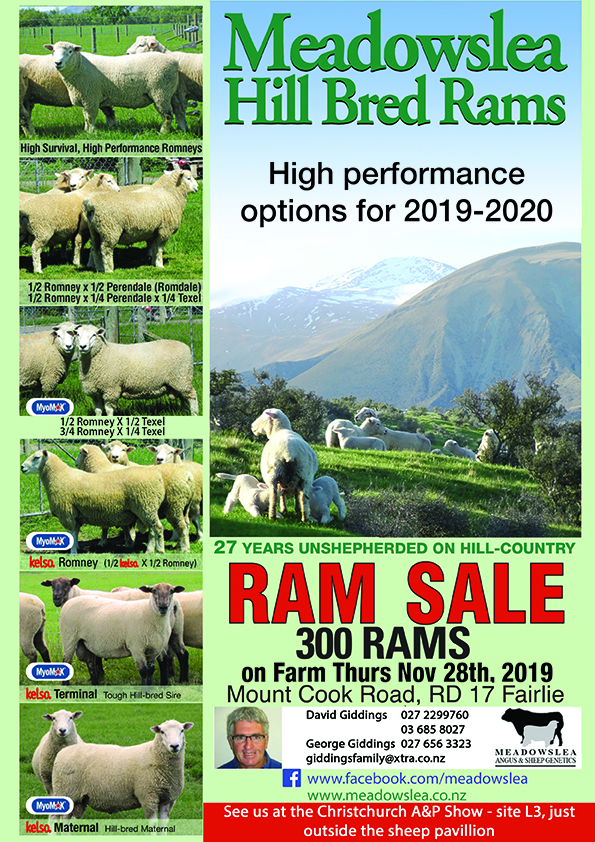 300 specially selected rams are offered from each of our available breeds. A Helmsman auction is run a tent in the front paddock.
All the rams are penned with individual lot numbers.
Buyers register and get a buyer registration number as for a normal auction, as well as a bundle of bidding slips.
There are a few large white boards, marked with a square for each ram. At the start of the sale each square has the lot number and reserve price written on it.
To make a bid, you write your buyer number on the slip, as well as the ram lot number and the price you bid. The reserve price is rubbed out, and the new price together with your buyer number written up.
Minimum bid is $50. We ask that everybody makes a bid in the first 30 minutes to get the sale moving. After an hour, we wait for a period of 2 minutes without any bids before closing the sale, to allow for any last-minute reshuffling.
After the sale feel free hang around for some food, drink and stories.
We are happy to arrange transport and usually run a full unit load to Southland as well as other loads to various other destinations. Alternatively, we can load rams out on the day if you wish to transport them yourself.
If you can't make the sale day yourself for whatever reason, then we are happy to buy rams for you.
If you want to arrange inspection in the week or two leading up to the sale then be in touch too!